Free Piano Sheets of Somewhere in Time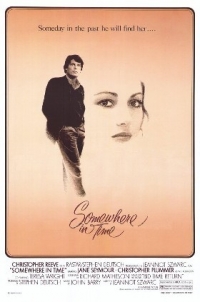 Somewhere in Time is a 1980 time travel romance film directed by Jeannot Szwarc, written by Richard Matheson and starring Christopher Reeve, Jane Seymour, Christopher Plummer, Teresa Wright and an early cameo by William H. Macy. The movie was filmed on location at the Grand Hotel, and the former Mackinac College - both located on Mackinac Island, Michigan.

Although this movie was well received during its previews, it was widely derided by critics upon release and unsuccessful at the box office. It has earned a large and loyal following since its release to cable television and video, and the movie is now regarded by many to be a cult classic.

Reeve plays Richard Collier, a playwright who becomes stricken by a photograph of a young woman at the Grand Hotel. Through self-hypnosis, he travels back in time to the year 1912 to find love with actress Elise McKenna (portrayed by Seymour). But her manager William Fawcett Robinson (portrayed by Plummer) fears that romance will derail her promising career and has resolved to stop him at all costs.

The film is adapted from the 1975 novel Bid Time Return by science fiction writer Richard Matheson, which was subsequently re-released under the film's title. The film is famous for its beautiful musical score, composed by John Barry (which surprisingly was not nominated for an Oscar for Best Score), and often played on the piano by piano students. In addition to Barry's score, the eighteenth variation of Sergei Rachmaninoff's Rhapsody on a Theme of Paganini runs throughout the film.
Share this with your friends
Piano Music Sheets of Artist
Total 1 result(s), listing between 0 - 1.


The free piano sheet music is provided for personal enjoyment only, not for resale purposes. If you are one of the artists and not happy with your work being posted here please contact us so we can remove it.

Latest Sheets
Here are the latest free piano sheets..
Mailing List
Subscribe to mailing list and get notified of updates.



Latest Sheets Feed


Popular Sheets Feed


Follow us on Facebook