Free Piano Sheets of E.T.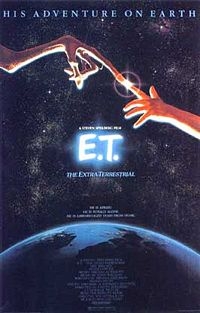 E.T. the Extra-Terrestrial is a 1982 science fiction film co-produced and directed by Steven Spielberg, written by Melissa Mathison and starring Henry Thomas, Robert MacNaughton, Drew Barrymore, Dee Wallace and Peter Coyote. It tells the story of Elliott (played by Thomas), a lonely boy who befriends a friendly alien, dubbed "E.T.", who is stranded on Earth. Elliott and his siblings help the alien return home while attempting to keep it hidden from their mother and the government.

The concept for E.T. came from an imaginary friend Spielberg created after his parents' divorce. When work on Night Skies stalled, Spielberg met screenwriter Melissa Mathison, whom he hired to pen the script for E.T. The film was shot from September to December 1981 in California on a budget of US $10.5 million. Unlike most motion pictures, the film was shot in roughly chronological order, to facilitate convincing emotional performances from the young cast.

Released by Universal Pictures, E.T. was blockbuster, surpassing Star Wars to become the most financially successful film released to that point. Critics acclaimed it as a timeless story of friendship, ranking it as best science fiction film ever made in a Rotten Tomatoes poll. The alien became the subject of analogies for Jesus. The film was rereleased in 1985, and in 2002 with altered special effects and additional scenes. Spielberg believes E.T. epitomizes his work.

Share this with your friends
Piano Music Sheets of Artist
Total 1 result(s), listing between 0 - 1.


The free piano sheet music is provided for personal enjoyment only, not for resale purposes. If you are one of the artists and not happy with your work being posted here please contact us so we can remove it.

Latest Sheets
Here are the latest free piano sheets..
Mailing List
Subscribe to mailing list and get notified of updates.



Latest Sheets Feed


Popular Sheets Feed


Follow us on Facebook