Free Piano Sheets of Yann Tiersen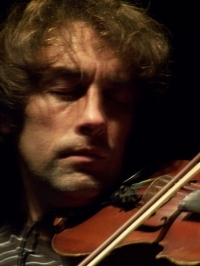 Guillaume Yann Tiersen (born 23 June 1970) is a French musician and composer known internationally for composing the score to the Jean-Pierre Jeunet movie Amelie. His music is recognized by its use of a large variety of instruments in relatively minimalist compositions, often with a touch of either European classical music or French folk music, using primarily the piano, accordion or violin together with instruments like the melodica, xylophone, toy piano, ondes martenot, harpsichord and typewriter. His musical style is reminiscent of Frederic Chopin, Erik Satie, Philip Glass and Michael Nyman.
Share this with your friends
Recommended Piano Music Sheets
23 piano works from the French musician and composer Yann Tiersen (b. 1970). Includes 6 ...
more
$31.64
Yann Tiersen - Piano Works. (1994-2003). By Yann Tiersen. For Piano. Piano. Book only. 88 ...
more
$36.95
Nicolai Podgornov's Romantic Piano Album. (Includes: Night and Day, Comptine ...
more
$22.95
Fake Book, Sheet Music Download. Artist: Yann Tiersen. Writer: Yann Tiersen.
$3.08
There are no other sheets found..


The free piano sheet music is provided for personal enjoyment only, not for resale purposes. If you are one of the artists and not happy with your work being posted here please contact us so we can remove it.

Latest Sheets
Here are the latest free piano sheets..
Mailing List
Subscribe to mailing list and get notified of updates.



Latest Sheets Feed


Popular Sheets Feed


Follow us on Facebook