Free Piano Sheets of Carlos Gardel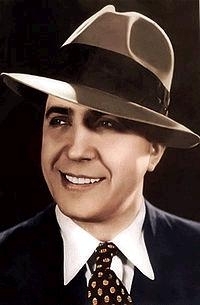 Carlos Gardel (11 December 1890 - 24 June 1935) was a singer, songwriter and actor, and is perhaps the most prominent figure in the history of tango. The unerring musicality of Gardel's baritone voice and the dramatic phrasing of his lyrics made miniature masterpieces of his hundreds of three-minute tango recordings. Together with lyricist and long-time collaborator Alfredo Le Pera, Gardel wrote several classic tangos, most notably "Mi Buenos Aires querido", "Por una cabeza" and "El dia que me quieras".
Gardel died in an airplane crash at the height of his career, becoming an archetypal tragic hero mourned throughout Latin America. For many, Gardel embodies the soul of the tango style. He is commonly referred to as "Carlitos", "El Zorzal" (The Song Thrush), "The King of Tango", "El Mago" (The Magician) and "El Mudo" (The Mute).
Share this with your friends
Recommended Piano Music Sheets
Por Una Cabeza by Carlos Gardel. For Concert Band. Swiss import. Grade 3.5. Score and ...
more
$84.83
Por Una Cabeza by Carlos Gardel. Arranged by Uwe Rossler. For violin and piano (cello, 2nd ...
more
$21.95
Por Una Cabeza -Tango. (Eingerichtet fur Drei Violoncelli). By Carlos Gardel. For 3 ...
more
$15.95
Tango (Por Una Cabeza) (Solo Violin with Piano Reduction). By Carlos Gardel and Alfredo Le ...
more
$12.99
There are no other sheets found..


The free piano sheet music is provided for personal enjoyment only, not for resale purposes. If you are one of the artists and not happy with your work being posted here please contact us so we can remove it.

Latest Sheets
Here are the latest free piano sheets..
Mailing List
Subscribe to mailing list and get notified of updates.



Latest Sheets Feed


Popular Sheets Feed


Follow us on Facebook