Free Piano Sheets of Wham!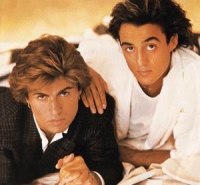 Wham! (often written WHAM!) was a pop band formed in 1981 by George Michael and Andrew Ridgeley. It was briefly known in the United States as Wham! UK due to a naming conflict with another band.

Michael and Ridgeley met at Bushey Meads School in Watford, England, UK. At first, they performed in a short-lived ska band called The Executive. When this group split, Michael and Ridgeley formed a duo called Wham! and went on to sign with Innervision Records. Soon after a legal victory over Innervision, the group was signed to CBS, Columbia Records in the United States and Canada and Epic Records for the rest of the world.

Michael took on the majority of roles and responsibilities within the band— composer, singer, producer, and occasional instrumentalist— but the contribution of Ridgeley as the group's image specialist and spokesman was crucial to the band's initial success. Ridgeley convinced a reluctant George Michael that Wham! needed to change their image and sound frequently, from the leather-clad moody singers of "Bad Boys" and "Young Guns (Go For It!)" to the more fashionable pop superstars of "Wake Me Up Before You Go Go."
Share this with your friends
Recommended Piano Music Sheets
Guitar Chords/Lyrics, Sheet Music Download. Artist: Wham!. Composer: George Michael.
$2.49
1980s - Decade by Decade. (Ten Years of Popular Sheet Music Bestsellers). By Various. For ...
more
$19.95
This songbook contains more than 40 of the biggest hits of the '80s. Each song is sure to ...
more
$17.39
In this special DVD you receive six seperate lessons from 6 true guitar greats, providing ...
more
$19.95
There are no other sheets found..


The free piano sheet music is provided for personal enjoyment only, not for resale purposes. If you are one of the artists and not happy with your work being posted here please contact us so we can remove it.

Latest Sheets
Here are the latest free piano sheets..
Mailing List
Subscribe to mailing list and get notified of updates.



Latest Sheets Feed


Popular Sheets Feed


Follow us on Facebook