Free Piano Sheets of Gackt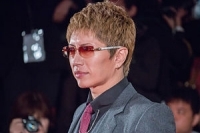 Gackt Camui (?? ?? Kamui Gakuto?, born July 4, 1973), better known by his stage name Gackt, is a Japanese musician, singer, songwriter and actor. He has been active since 1993, first as the frontman of the short-lived independent band Cains:Feel, and then for the now defunct visual kei rock band Malice Mizer, before starting his solo career in 1999. He has released nine studio albums and, with forty-six singles released, holds the male soloist record for most top ten consecutive singles in Japanese music history. His single "Returner (Yami no Shuen)", released on June 20, 2007, was his first single to reach the number one spot on the Oricon charts. He became the first Japanese artist to release his music catalog on iTunes in October 2007.

Besides being established in the modern entertainment industry, his music has been used as theme songs for video games (Final Fantasy VII), anime films (Mobile Suit Zeta Gundam) and television series. In addition to his music career Gackt has acted in a few films, including a film he wrote, Moon Child, and his international debut Bunraku, and TV series such as the NHK drama Furin Kazan. He also performed live in theatre stage plays, one of which was written, composed and directed by him: Moon Saga - Mysteries of Yoshitsune I&II.
Share this with your friends
There are no sheets found..


The free piano sheet music is provided for personal enjoyment only, not for resale purposes. If you are one of the artists and not happy with your work being posted here please contact us so we can remove it.

Latest Sheets
Here are the latest free piano sheets..
Mailing List
Subscribe to mailing list and get notified of updates.



Latest Sheets Feed


Popular Sheets Feed


Follow us on Facebook