Free Piano Sheets of Saturday Night Fever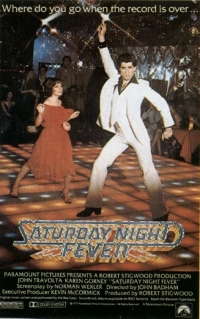 Saturday Night Fever is a 1977 film starring John Travolta as Tony Manero, a troubled Brooklyn youth whose weekend activities are dominated by visits to a local discothèque. While in the disco, Tony is the king, and the visits help him to temporarily forget the reality of his life: a dead-end job, clashes with his unsupportive and squabbling parents, tensions in the local community, and his associations with a gang of dead-beat friends.

A huge commercial success, the movie significantly helped to popularize disco music around the world and made Travolta a household name. The Saturday Night Fever soundtrack, featuring disco songs by the Bee Gees, became the best selling soundtrack at that time and held the record until 1999 when soundtrack to The Bodyguard overtook it. The film is also notable for being one of the first instances of cross-media marketing, with the tie-in soundtrack's single being used to help promote the film before its release and the film popularizing the entire soundtrack after its release.

The story is based upon a 1976 New York magazine article by British writer Nik Cohn, "Tribal Rites of the New Saturday Night." In the late-1990s, Cohn acknowledged that the article had been fabricated. A newcomer to the United States and a stranger to the disco lifestyle, Cohn was unable to make any sense of the subculture he had been assigned to write about. The characters who were to become Tony Manero and his friends sprang almost completely from his imagination. The film also showcased aspects of the music, the dancing, and the subculture surrounding the disco era: symphony-orchestrated melodies, haute-couture styles of clothing, sexual promiscuity, and graceful choreography.
Share this with your friends
Piano Music Sheets of Artist
Total 6 result(s), listing between 0 - 6.


The free piano sheet music is provided for personal enjoyment only, not for resale purposes. If you are one of the artists and not happy with your work being posted here please contact us so we can remove it.

Latest Sheets
Here are the latest free piano sheets..
Mailing List
Subscribe to mailing list and get notified of updates.



Latest Sheets Feed


Popular Sheets Feed


Follow us on Facebook