Free Piano Sheets of R.E.M.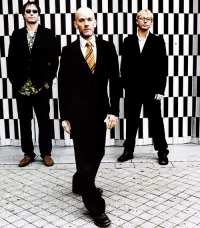 R.E.M. is an American rock band formed in Athens, Georgia, in 1980 by Michael Stipe (lead vocals), Peter Buck (guitar), Mike Mills (bass guitar), and Bill Berry (drums and percussion). R.E.M. was one of the first popular alternative rock bands, and gained early attention due to Buck's ringing, arpeggiated guitar style and Stipe's unclear vocals. R.E.M. released its first single, "Radio Free Europe", in 1981 on the independent record label Hib-Tone. The single was followed by the Chronic Town EP in 1982, the band's first release on I.R.S. Records. In 1983, the band released its critically acclaimed debut album Murmur, and built its reputation over the next few years through subsequent releases, constant touring, and the support of college radio. Following years of underground success, R.E.M. achieved a mainstream hit in 1987 with the single "The One I Love". The group signed to Warner Bros. Records in 1988, and began to espouse political and environmental concerns while playing large arenas worldwide.

By the early 1990s, when alternative rock began to experience broad mainstream success, R.E.M. was viewed as a pioneer of the genre and released its two most commercially successful albums, Out of Time (1991) and Automatic for the People (1992), which veered from the band's established sound. R.E.M.'s 1994 release Monster was a return to a more rock-oriented sound. The band began its first tour in six years to support the album; the tour was marred by medical emergencies suffered by three band members. In 1996, R.E.M. re-signed with Warner Bros. for a reported US$80 million, at the time the most expensive recording contract in history. The following year, Bill Berry left the band amicably, with Buck, Mills, and Stipe continuing as a three-piece. Through some changes in musical style, the band continued its career into the next decade with mixed critical and commercial success. In 2007, the band was inducted into the Rock and Roll Hall of Fame.
Share this with your friends
Piano Music Sheets of Artist
Total 4 result(s), listing between 0 - 4.


The free piano sheet music is provided for personal enjoyment only, not for resale purposes. If you are one of the artists and not happy with your work being posted here please contact us so we can remove it.

Latest Sheets
Here are the latest free piano sheets..
Mailing List
Subscribe to mailing list and get notified of updates.



Latest Sheets Feed


Popular Sheets Feed


Follow us on Facebook